Where to eat in Porta Romana?
If you are looking for somewhere to eat in Porta Romana, you'll be spoilt for choice. From street-food booths to old inns and from fusion eateries to delicatessens, you will soon find out that, true to form, Italy pulls out all the stops when it comes to mealtimes.
Italians have been tasting, savouring and socialising over food for many lifetimes. Like the Bar Bisa, a storied place in the neighbourhood and a familiar fixture frequented by anyone who visits or works at the famous Franco Parenti Theatre. The black-and-white photos plainly show that the sign initially bore the words "Bar Moka" and that its clientèle was made up solely of factory and construction workers. Today Walter Bonatti is the fourth generation to run the bar, but the new name Bisa (standing for the Italian words "A Good Idea to Spend Time Together") does not deviate from the spirit of the original.
The historical Giannasi rotisserie in Porta Romana
For those who are partial to roast meats, the booth of Dorando Giannasi is a must-visit. He came to Milan in 1959 as a 14-year-old kid and began working as a kitchen hand. Later on in 1967, he would set up his own shop and it would become the most famous and popular poultry and spit-roasting place in town. So much so that in 2010 Dorando won the Ambrogino d'Oro, the highest honour awarded by the city of Milan. He must have seen a great many changes in habits and tastes since he first started out.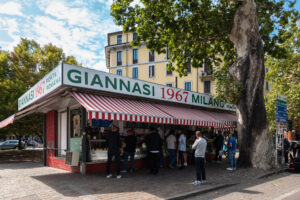 The Bettola di Piero
in Via Orti
Further on from the Archway of Porta Romana, there is a narrow secluded street where time seems to have come to a standstill. Its name is Via Orti, a reference to the vegetable patches that grew produce for the Verziere marketplace (Orti means vegetable gardens in Italian). Here, the many historical stores and old trattorias are a tangible sign of the gastronomic prowess of the neighbourhood. One of these is the Bettola di Piero (Piero's Dive). Checked table linen, old-style dressers, and vintage framed photos tell the story of an iconic restaurant. A popular spot for many theatre actors who would come for a bite to eat from nearby theatres after the show, it had the only jukebox and only television in the area which drew quite the crowd at the time.
Today, it is run by Monica Bertolazzi who originally comes from Turin but works in Milan, and she welcomes everyone with warmth and grace.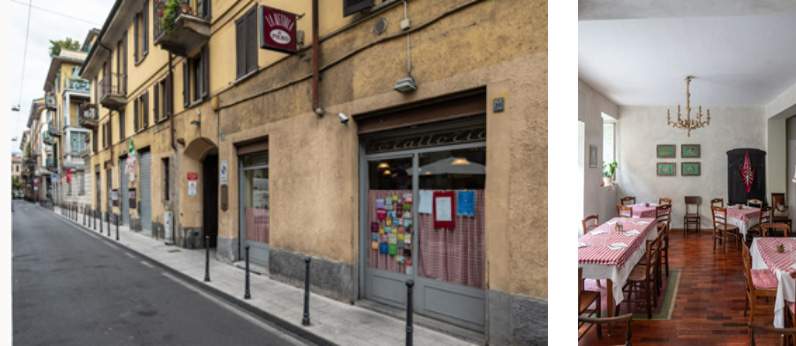 Dongiò, half from Romagna and half from Calabria
Not far away there is another historic restaurant in the neighbourhood. Its name is Dongiò. It has been serving traditional dishes from Romagna and Calabria since 1987. Already into the third generation, this family-run business has retained its rustic flavour and authenticity over time, resisting the temptation to go modern like other places over the years.
Ya-Pa, the best of fusion cuisine at Porta Romana
One of the surprises on the streets of Porta Romana is the level of sophisticated experimentation, as is evident from Ya-Pa, a fusion restaurant that opened in 2021. If you're keen on exotic flavours from South America, Asia and the Mediterranean all on the same plate, you're in the right place. Here, everything that arrives is shared between diners and serving dishes are placed in the middle of the table.
The Longoni Bakery, halfway between tradition and innovation
Fancy trying more culinary experimentation? Plenty of that at the Longoni bakery which is dedicated to salvaging old recipes and ancient techniques. Davide Longoni is both son and grandson to a line of bakers, and he has a very clear idea of how exactly he wants to follow in the footsteps of those who preceded him. His vision involves using regional wheat, sourdough, stone grinding and natural leavening methods. The first store can be found in Porta Romana, but today there are another 6 scattered all over the city of Milan. Davide is determined to cultivate lots of farmland out of town where the fields are tilled in an old-fashioned way, using tools and methods like Lombard water meadows with a three-year crop rotation system.