Artisanship and historic stores in the Porta Romana area of Milan
In a city where a hectic pace is nothing out of the ordinary, the artisan-focused stores and shops transport you back to a world where time passes more slowly. These are places where craftsmanship takes place, or as Milanese grandmothers call it "mestee" – the job.
The '"Autentica" Cartoleria Boati
The Cartoleria Boati (Boati Stationer's) is a shop in Viale Sabotino, Porta Romana. It's been around since 1942, run by the same family. Although it has been refurbished, it has retained a heritage feel that earned it a place amongst the 12 historic stores of the city selected by Dolce & Gabbana's as part of its "Autentica" project – a special scheme for anyone who helps to preserve Milan's original spirit.
The Pasticceria Sommariva in via Crema
Another place ranked amongst the top 12 is the Pasticceria Sommariva (Sommariva Cake Shop) in via Crema. The start of its story dates back to over a century ago when Gina Grandi opened the cake shop, but then sold it to Giorgio Sommariva in 1976. If you fancy an almond amaretto with a soft centre, this is where to go. These amaretto biscuits are based on an old family recipe and people come from far and wide to buy them.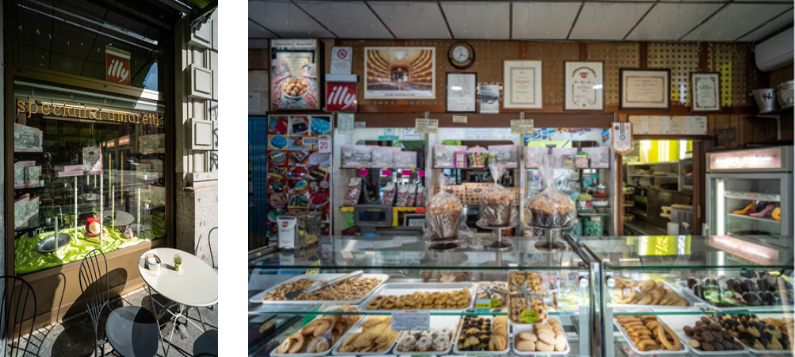 The Salumeria Drogheria Cassani, a "mondeghini" lover's paradise
Via Orti sets the bar high in terms of Milanese artisanal prowess thanks to three notable establishments.
On the top of the list, there is the Salumeria Drogheria Cassani (Cassani delicatessen and corner store) which sells "Mondeghini", famous Milanese meatballs which were originally a poor man's dish. And this is just one of the delicious snacks available for purchase. The shop was founded in 1898 by Leonilde, Ercole Cassani's grandmother, not far away from where it is now. Then, the premises were moved a few metres away in 1981 to its current location where Ercole, together with his son Paolo, welcomes his customers in Milanese dialect today.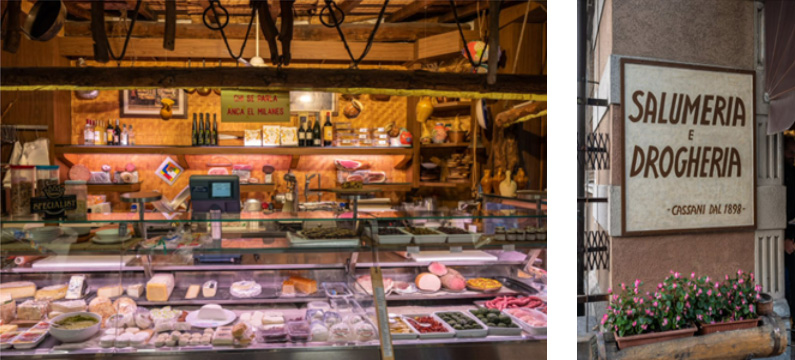 The Bottega del
Bagatt
in via Orti
Talking about local dialect, the Bottega del Bagatt (the Cobbler's) is second on our list in terms of artisanal excellence. Judging by the name, one might except a century-old store like that of the Cassani's, but it actually belongs to two youngsters called Maria and Enrique who are of Chilean origin. So, why did they choose such a traditional Milanese name? It all started with Maria's great grandfather, a Portuguese cobbler who emigrated to Chile. He passed the secrets of his trade on to her grandfather and then to the generation after that. Maria's father, who had become a cobbler himself by then, moved to Milan about 70 years ago. She and Enrique learnt all the tricks of the trade in turn and opened the store which has actually only been in business for 8 years. Where did they decide to open shop? In Via Orti, of course. The decisive factor was the "big village" feel of the area and they paid tribute to the city that had welcomed them so warmly by choosing a Milanese name.
The Marco Fanchiotti furniture shop
Porta Romana is all about art as well. Indeed, the third artisanal establishment in the area is Marco Fanchiotti, a restorer who trained at the Accademia di Restauro (the Academy for Restoration). Marco was not satisfied with restoring the old furniture and objects of his neighbours to their former beauty. He wanted take his craft one step further and attended a course run by a female decorator in Via Orti. She was the one who told him that he could buy his own space there, one that was already used by another restorer. And he hasn't stopped for a moment since 2002. There has never been any shortage of customers who want to revive the pieces of art in their homes.