Birrificio Lambrate – an idea by Fabio Brocca and Davide Sangiorgi
The story of this unique place begins with Fabio Brocca and Davide Sangiorgi, two friends who, together with the latter's brother Giampaolo, decided to embark on an exciting adventure: making craft beer.

The first Montestella and Porpora beers were produced with a 150-litre plant and soon after, in 1997, they opened the outlet in Via Adelchi, followed by a second premises in Via Golgi in 2011.
Success was immediate and stunning, boosting their determination to carry on. Two new partners joined a few years after the launch: Alessandra Brocca and Paolo Maran.   
Production and storage now take place in the Via Sbodio plant, on the banks of the Lambro river. The beer made there is unpasteurised and unfiltered, using water, malted barley, wheat and rye, hops and yeast. 
The Birrificio Lambrate production process
The mission is to create craft beers that have character but are also easy to drink. 
Production has soared over the years, and today the plant has a capacity of 40 hectolitres. 
Managing the production process is a complex task, requiring skill and an exacting approach, especially when analysing the finished product, which is done in the plant's in-house laboratory. The main ingredients, however, are invention and, of course, great passion.
The signature beers of Birrificio Lambrate
The beers have light-hearted names that pay homage to the history, places and icons of Milan – as well as the local dialect. Pausing in front of the beers and reading their labels is like taking a Milanese trip down memory lane, with local references such as: "Sant'Ambroeus", "Ghisa", "Fa balà l'oeucc", "Rob de Matt", "Domm" and "Quarantot".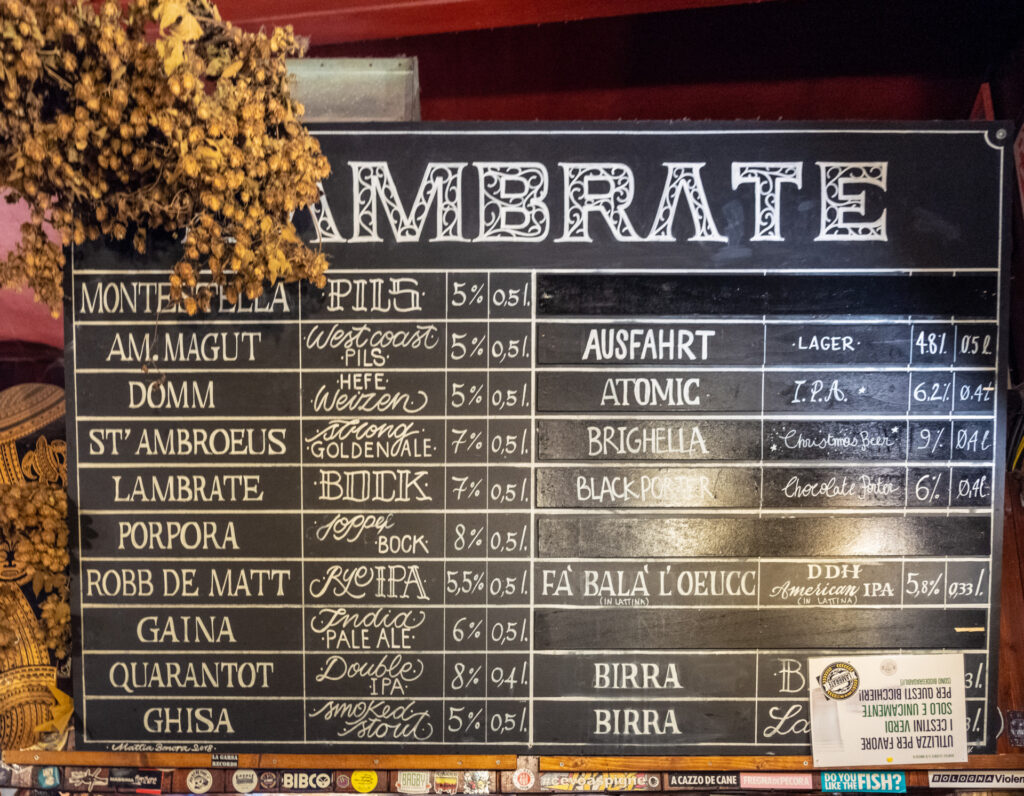 The murals on the outside wall of the production plant show the close connection between Birrificio Lambrate, its local neighbourhood and the city of Milan. You can admire the depictions of the ghisa ("cast iron", i.e. the traffic wardens), draghi verdi ("green dragons", i.e. the public drinking fountains scattered around the city), the Duomo and many other Milanese symbols.